Explorer Post 140
Boy Scout Explorer Post 140 is the largest special needs scouting unit for adult men and women with intellectual disabilities in the United States.  The ongoing activities lead to new friendships, new skills and a sense of accomplishment.
Monday nights, a soc hop is held in the gymnasium, to which family members are invited to participate. Other weekly activities include swimming, watching movies and bowling.
Additionally, Camp Parkitan, a one-week day camp, is held on the campus every summer and serves 200-300 adults.
If you are interested in Post 140 activities, please call Bill Stinebaugh for more information at 757-868-5132.  Come join the fun!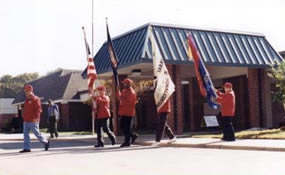 Camp Parkitan
For additional information, call 757-868-5132.